ReUSE focuses on reducing waste and pulling reusable items (e.g. stationary, binders, books, and clothes) out of the waste stream and recirculating them both on-campus and within the Berkeley community.
---
ReUSE Stations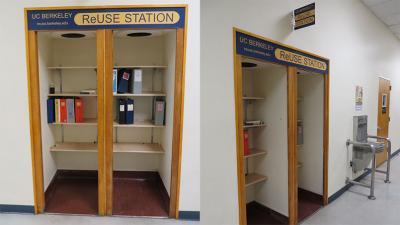 Campus ReUSE stations, like in Barrows Hall, serve as a hub for students, faculty, and staff to pick up any reusable items for  free.
If your department has a large amount of usable supplies such as binders, staplers, mail trays, etc. that are no longer needed, please call the Facilities Services desk at (510) 642-1034 and initiate a work order. Our team will repurpose and redistribute these items, instead of throwing them away. 
Eco-Trike
The Eco-Trike is a human and electric-powered bike with a truck bed that is used for on-campus pick ups and deliveries. It was purchased through the Pedaling Towards Zero Waste grant funded by The Green Initiative Fund.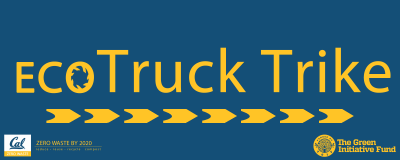 Repurposing Tennis Balls
Cal Zero Waste received over 1000 tennis balls (152.4 lbs of tennis balls) from Cal Men's Tennis Team and donated them to several elementary schools in the Berkeley area to use for physical education. During the summer, Men's Tennis runs several weeks of summer camps, so at the end of the summer season, all the gently used tennis balls are left in storage. The problem with used tennis balls is after every tennis match, they become worn down and lose their bounce from loss in air pressure over time. As a result, a majority of tennis balls eventually end up in the landfill. To curb the amount of landfill waste stemming from tennis balls, Cal Zero Waste looked into the different ways tennis balls could be reused instead of being tossed away in landfill, including and not limited to chair feet covers, dog toys, or even craft projects. In light of the zero waste goal by 2020, Cal Zero Waste hopes to encourage the 4 R's amongst the campus community in order to make the campus more sustainable: Reuse, Reduce, Recycle, and Rot (Compost).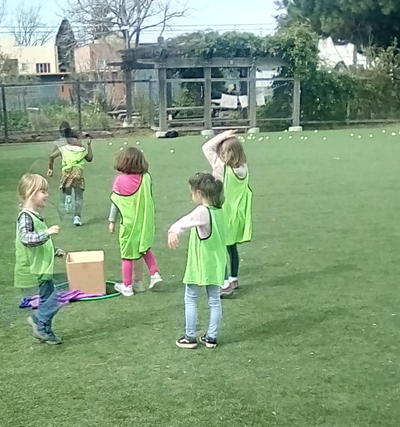 ---